Ikan Merah Stim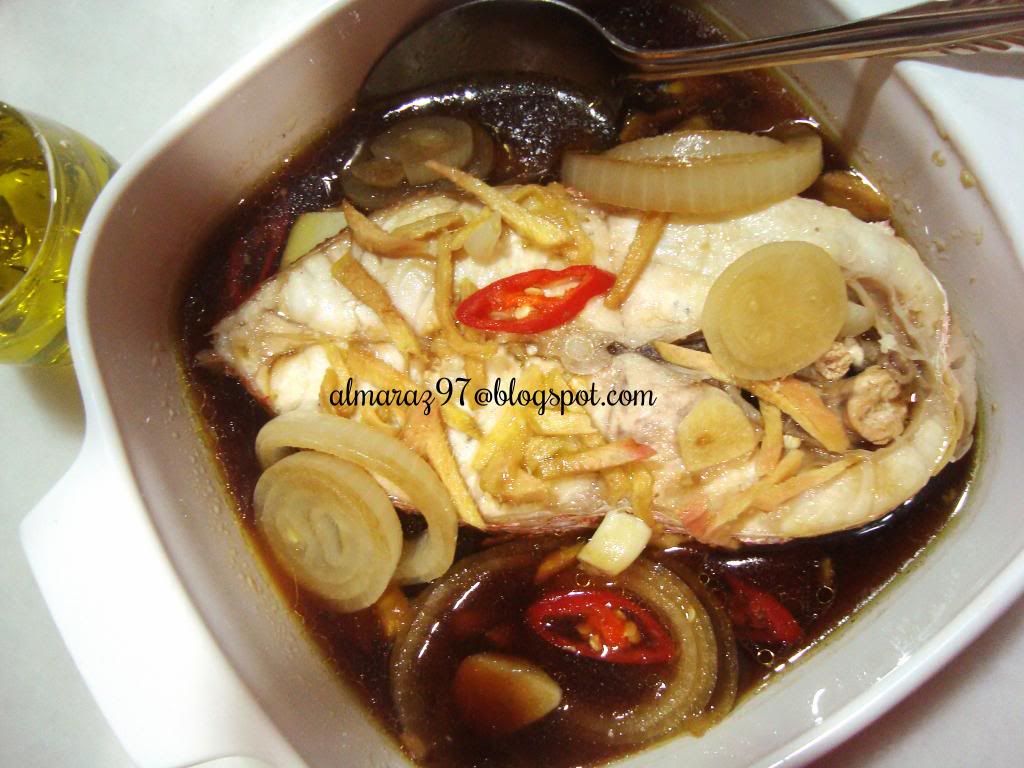 Simply the simplest ever!
Sumber protein yang mom paling suka adalah IKAN....yes...antara masakan ikan yang paling simple semestinya masakan stim. Healthy way though....kan?
This one mmg senang sangat resipinya cuma yang berbeza mungkin penggunaan olive oil dalam masakan jer.
Jom........stim ikan!
Ikan Merah Stim
Bhn:
1 cutlet ikan merah
3-4ulas bwg putih, hiris2
1ulas bwg besar, hiris bulat2
2-2.5in halia, hiris btg mancis (halia mmg sedap dlm masakan stim ni)
1bj lada merah, hiris serong
sedikit serbuk lada hitam + lada sulah
garam secukup rasa
Sos:
4-5sdb sos soya
1sdt sos ikan (optional)
2sdt extra virgin olive oil
Cara:
1. Sediakn kukusan. Biar smpai air kukusan mendidih. Sediakan bekas tahan kukus utk dijadikan bekas ikan dlm kukusan.
2. Lumurkan ikan dgn garam, serbuk lada hitam & lada sulah. Letak atas bekas tadi, taburkan hirisan bwg2, halia & cili. Letak dlm kukusan, kukus dalam 5-6min (ikut saiz ikan). Angkat & letak dlm mangkuk.
3. Masak dlm pot, sos soya + sos ikan, hgg mendidih. Tutup api. Campurkn olive oil, kacau2 sket then season it onto the steamed fish. Siap!
Garnish kn dgn cilantro lagi sedap tp mom xder stok masa tu tp still loveeee it!