Antara resipi cupcake yg gebu sgt2, prepared by my daughter, Batrisyia Razilan based on her baking bible.
Buatnye mlm, esoknya si adik bongsu bwk seketul yg gedabak pi childcare (she made some with large size muffin cups (dpt 6je - 3 barbie cups, 3-soccer cups), some with mini ones). Udah le mlmnye tu hat yg mini dkt nk abis mkn! Smpai si kakak membebel sbb takut tak cukup nk jadikan butterfly! ... Last2nye, 2 ketul ni je yg smpt! Ya lain kene ngap togel2 gitu, x ber-topping pon!
This is among the simplest recipe for the kids.
Mommy pun enjoy memakannye :]
Jommmm....baking!
Bhn:
125g unsalted butter, lembutkan
150g gula kaster
265g tepung naik sendiri
125ml fresh milk
2bj telur, suhu bilik
------------
topping:
double cream, secukupnya
jem strawberi, secukupnya
sedikit gula icing, utk dusting
Cara:
1. Panaskn oven, 180C. Sediakn muffin cup secukupnya.
2. Dlm bekas mixing, satukan butter, gula, tepung, susu & telur. Putarkn dgn mixer, mula2 guna low speed bila dh sebati guna speed laju sikit (dkt2 nk high tu) smpai adunan lembut & pucat. Adunan siap!
3. Isikan adunan ke dalam setiap muffin cup, bakar dlm 30min (atau smpai masak). Kemudian sejukkan atas wire rack.
4. Potong tengah setiap muffin, spt dlm gambar. kemudian potong dua bhg yg dipotong tu.
5. Isikn lubang tgh2 muffin tu dgn cream then bubuh jem atasnya. Pastu, amik 2 potongan td dan letakkn di kiri & kanan (wat cam sayap rama2). Dust-kn dgn gula icing.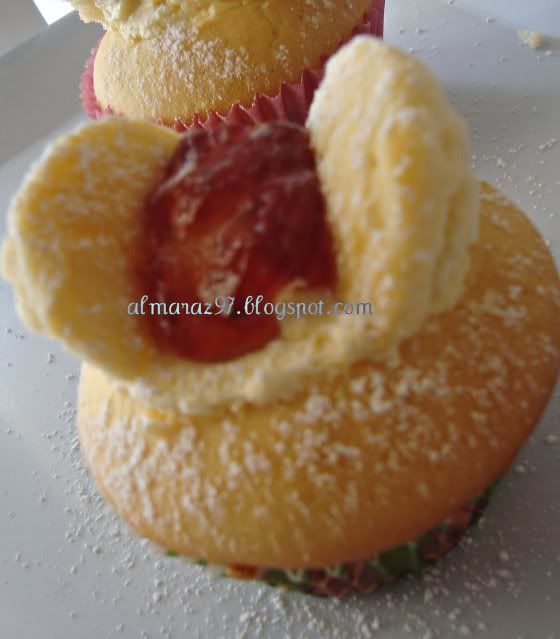 Siap utk dihidangkan!